Rail News Home  Railroading People
12/18/2017
Rail News: Railroading People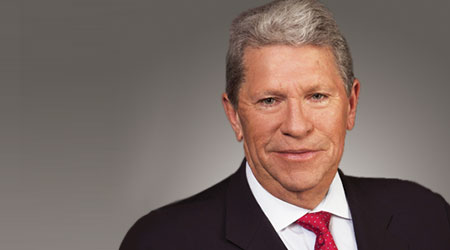 Rail industry leaders hailed the late E. Hunter Harrison for his influence on the rail industry during his 50-plus-year career.
Harrison, president and chief executive officer of CSX Corp., died Saturday after experiencing "unexpectedly severe complications from a recent illness," the company said in a statement. He was 73.
CSX announced Dec. 14 that Harrison was taking a medical leave and that Chief Operating Officer James Foote would serve as acting CEO.
Born in Memphis, Tennessee, Harrison was a longtime railroad executive who was known as a "railroader's railroader" and for his skill at turning around railroads. Prior to joining CSX in March, he was president and CEO of Canadian Pacific and CN. He also served as CEO of Illinois Central Corp. in the 1990s.
Harrison began his career in 1963 as a carman-oiler with the St. Louis-San Francisco Railroad, while he was still in high school. During his career, he became famous for applying the "scheduled railroad" concept to railroads to improve their operating efficiency.
"It is, of course, an understatement to say he was a giant of the industry," Tony Hatch, an independent transportation analyst and consultant who had known Harrison since 1990, wrote in an email. "He was always a straight-shooter, and well tolerated dissenting views. … He was endlessly fascinating, endlessly controversial — and never, ever boring. I liked him a lot."
In 2009 when he was CEO at CN, Harrison received Progressive Railroading's inaugural "Railroad Innovator Award."
"Hunter changed more than a few minds about how railroads work, or could work," said Progressive Railroading Editor Pat Foran. "From the operational improvements recorded at the Class Is he ran to the relentlessness with which he pursued his goals and applied his talents — be it the precision scheduled railroading model he championed or his ability to identify talent and inculcate culture change — Hunter challenged conventional wisdom and changed organizations his way."
To CP President and CEO Keith Creel, Harrison was a professional mentor as well as a personal friend.
"I spent most of the last 25 years working closely with Hunter. Over that time, he taught me how to railroad but more than that, he taught me how to be a leader," said Creel in a prepared statement.
Professionally, Harrison was "unmatched" in his influence on railroading, Creel said.
"He will go down as the best railroader ever, plain and simple," said Creel. "What he has done at multiple railroads and for our industry the last 50-plus years is incredible which includes bringing CP back to its rightful place among leaders in the Class I space in what some have called the greatest corporate turnaround in history."
CN officials also expressed sorrow over Harrison's death.
"Hunter was a giant of the railway industry for decades and a transformative figure at CN," company officials said in a statement posted on Twitter.
Mantle Ridge LP founder and CEO Paul Hilal, who helped get Harrison hired as CEO at CSX, said he was "humbled and honored" to have been a Harrison friend.
"Hunter's burning passion, genuine humanity, and success helping countless connect with their fullest potential inspired a profound personal loyalty and devotion. Combining these with his unique genius, he created a legacy of truly historic proportions," said Hilal, a CSX board member.
Benjamin Hartford, a research analyst at Robert W. Baird & Co. Inc., described Harrison as a "colossus" in the rail industry.
"[Harrison's] operational track record is without parallel, but his legacy will be marked as much by his personality and leadership qualities," Hartford wrote in a statement issued today. "His precision scheduled railroading concept transformed conventional wisdom regarding the industry's possibilities, and the success of his PSR model at several organizations was matched only by the force of his personality."
Harrison is survived by his wife, Jeannie, and two daughters.