Rail News: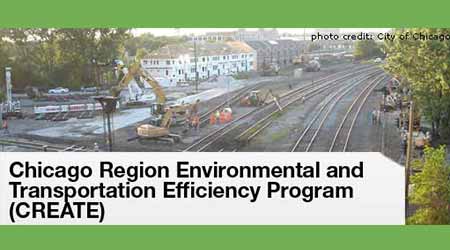 Chicago Region Environmental and Transportation Efficiency Program (CREATE)partners yesterday submitted an application to the U.S. Department of Transportation seeking a $160 million Infrastructure For Rebuilding America(INFRA) grant for several freight- and passenger-rail projects.
The grant would help leverage private and public dollars for the program's 75th Street Corridor improvement project and Argo Connections project. The federal funds sought in the INFRA application would cover only one-third of total costs, but would close a funding gap that would enable the projects to quickly proceed to construction, CREATE officials said in a press release.
The two projects involve five interrelated infrastructure improvements that are central — both geographically and functionally — to reducing rail and highway delays, and expanding freight-, commuter- and passenger-rail capacity in the Chicago region, they said.
The 75th Street Corridor improvement project in part calls for reconfiguring Belt Railway Co. of Chicago (BRC) main tracks where four freight railroads and Metraconflict, constructing a second main track for Metra's SouthWest service and building a flyover. The Argo Connections project calls for constructing a double-track connection and crossovers between a BRC and Indiana Harbor Belt Railroad(IHB)/CSX line in Summit, Illinois, as well as upgrading mainline crossovers.
The application describes how the projects would have substantial national and regional economic benefits because capacity and reliability would be improved through the nation's busiest rail hub, CREATE officials said. The projects also would demonstrate innovative techniques and practices, and incorporate performance measures and accountability, they added.
CREATE partners include Amtrak, the Association of American Railroads, BNSF Railway Co., BRC, the Chicago and Illinois departments of transportation, Canadian Pacific, CN, CSX, IHB, Metra, Norfolk Southern Railway and Union Pacific Railroad.