CSX becomes first railroad to reach sick time deal with conductors' union
JACKSONVILLE, Fla. — CSX Transportation has reached a tentative agreement with the Sheet Metal, Air, Rail and Transportation Workers-Transportation Division B&O union to provide trainmen and conductors with paid sick leave benefits.
Pending ratification by SMART-TD B&O members, the agreement will increase the number of CSX operating employees with paid sick leave benefits to more than 10,000, or 60% of the company's union-represented workforce, the railroad announced today.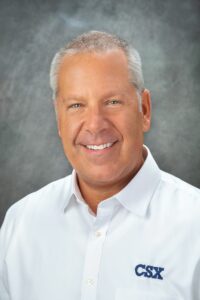 "I want to thank the SMART-TD B&O leadership for working with us to reach this important agreement for their members and adding to the progress we're making together to improve the work experience for front-line employees who create value for our customers," CEO Joe Hinrichs said in a statement.
The terms of the SMART-TD B&O agreement provide for five days of paid sick leave annually plus an opportunity to convert two days from personal leave to sick leave.
Other unions on CSX that have negotiated paid sick leave for their members include the International Brotherhood of Electrical Workers (IBEW); the Brotherhood of Maintenance of Way (BMWED), which represents track workers; the Brotherhood of Railway Carmen (BRC), which represents mechanical employees; the International Association of Machinists and Aerospace Workers (IAM), which represents railroad machinists; and the National Conference of Firemen and Oilers (NCFO), which represents CSX's utility workers.
"We are committed to listening to our employees and talking with union leaders about how we can solve issues and further improve relations," Hinrichs said. "When we're working together, we're working better — for our customers and each other."